Ministry of Security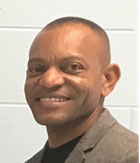 Dr. Headley Oliver

Director

The mission of the Security Ministry is to maintain an atmosphere where worshippers and participants at GEC church services and events feel welcome, comfortable, and secure at all times. This Ministry is also charged with the protection of the Pastors and will strategically liaise with all other Ministries.

In a high tech world of cyber terrorism and crime the role of Ministry security can no longer be limited to just physically protecting the church facilities from visible threats that may be coming at it especially with a bold Ministry engaged in global, spiritual warfare. Today spiritual threats have materialized with great regularity as we address racism, anti-Semitism, terrorism and a variety of other forces.

Global Evangelistic Center's security focus can best be detailed by understanding the grid that we have created that clearly identifies the enemies of Judah which are the enemies of our peace. GEC's Security Director will effectively liaise with the other key Ministry areas to ensure maximum effectiveness and in the Call of Duty to proactive Ministry Security.

By
Global Evangelistic Center